Posted by WKF AUSTRIA Verbandsbüro on March 28th, 2015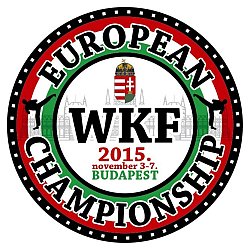 The beautiful city of Budapest on the Danube is the capital of Hungary and the host city for the upcoming Championship 2015 from 3.-7. November.

Sport has no races, social or political barriers, which does ______________ mean, that it is the perfect way for all men and women, Boys and girls, to achieve amazing results, regardless of race, Religion or skin color.
The Possibility, to represent their country in the name of sport at the international level is probably one of the greatest achievements that can make a single. The performance of the competitors at this level is enormous, and goes far beyond the normal physical endurance.
Winning here, in particular at such a high level,requires a long and hard preparation. A comprehensive physical training in technology, Strength and endurance.
I invite you to our wonderful capital city Budapest to see, The beautiful city center, friendly people, our culture, cheap hotel deals, enjoy your meal, our famous pastries and cakes and a real big European Championship in the heart of Europe.
This is what awaits you in Budapest! Hungary welcomes you.
We hope, On the World Cup from 14.-19. November 2016 to see again in Andria !
Posted in General | Comments Off